Selection for the ATPL course
Selection for the ATPL course
All the information you need to participate in the selections to begin the course of study to become an airline pilot.
The course to become an airline pilot
It is the first step to entering a cockpit and becoming an airline pilot.
Our ATPL course has a limited number of places, so it is possible to enroll after passing an entry test.
The goal of the test is to identify the group of students who will be guaranteed a top-notch course of study and make sure that all students have access to the school's resources (planes, classrooms, PCs…) without overcrowding so that they can finish their training on time.
Our courses maintain a high standard of training by limiting the number of admissions: it is possible to enroll after passing an entry test.
How is the test structured?
The entry test is held at our academy headquarters and consists of about 50 multiple-choice questions that will cover basics in logic, mathematics, geometry, physics and general culture.
The maximum duration for holding is 2 hours.
The result will be personally communicated to each candidate about 1 week after the test is taken.
Based on the score achieved you will receive a one-year eligibility to enroll in our course and begin training at our school.
Sign up for the entry test now!
You can reach our base in different ways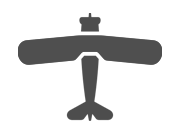 Coordinates: N 44° 28.5' E011° 32.5'
Runway orientation 03/21 on asphalt runway
Ozzano Radio: 128,45

Via Sabbionara, 5 – Ozzano dell'Emilia – Italy
From Bologna, exit the ringroad (tangenziale) at San Lazzaro and continue along the Complanare; after passing Ponte Rizzoli turn
left into via Sabbionara.

From Bologna Marconi Airport
People Mover connection to Bologna Central Station, there take a train to Ozzano, then a cab to Via Sabbionara, 5.
From Bologna Central Station
train to Ozzano and then take a cab to Sabbionara Street, 5.

For those who wish to enjoy the courses and experiences offered by PROFESSIONAL AVIATION for more than one day, it is possible to stay in Catherine's brand new B&B at Hotel Eurogarden.