Airline Transport Pilot License
With this course you will obtain the ATPL Frozen airline pilot license, which allows you to operate in a commander or co-pilot capacity on multi-engine aircraft used in commercial air transport operations. Our course is structured to be completed in 24 months for those who start from scratch (18 months for those who already have a PPL license) and allows for maximum flexibility because it is modular, that is, each license and skill is earned independently according to the student's time needs.
Our course is aimed at airline entry and preparing the student for the standards required in commercial aviation. For this reason, in addition to having connections with several airlines, we have structured a pathway that will enable them to pass the selections brilliantly with the utmost peace of mind, confidence and preparation. Our trainees have a 97 percent hiring rate in several companies including Ryanair.
The entire course takes place at our academy in Ozzano dell'Emilia in the province of Bologna, home to the oldest university in the Western world and official home to national and international students from all over the world.
Modules necessary to become an airline pilot
The modules to become an airline pilot are as follows:
Each module consists of a theory part and a practice part, which vary depending on the rating or license that will be obtained.
Theory
The theoretical part of the ATPL can be done both in the classroom (650 h) and through distance learning (90% at home and 10% in classroom). During both classroom and distance learning, students will be followed subject by subject to ensure a steady progression with the goal of acquiring a solid knowledge and passing the ENAC exams successfully and in a short time.
Practical course
In-flight training is conducted at the same time as the theory part. After completing the PPL on the P2008JC aircraft, the student will first perform the consolidation activity (Hours building) as Pilot in Command again on the P2008JC aircraft, then the IR (Instrument Rating) on the Cirrus SR20 aircraft, the Multi-Engine Piston and Complex (MEP/Complex) module on the P2006T aircraft and, finally, obtain the Commercial Pilot License (CPL) on the P2006T aircraft. At this point to obtain the ATPL Frozen the student will complete the training with the AUPRT module and then the MCC or APS MCC.
During the hours consolidation activity (hours building) we urge learners to plan group routes that are days or weeks long, so that they can travel together and accumulate flying hours in a short time and in a fun way! Some of our students have toured Europe, some have toured Italy, and some have flown to France, Spain and Portugal. To learn how to be self-reliant, there is no better way than to get on a plane and take a trip!
Requirements for enrolling in the course
Eight grade License (USA), Year 9 (UK, AUS, NZ)
1st Class medical examination (before starting the flight activity, not necessary for enrolment);
The ATPL course is with a restricted number of attendants. To register, you must pass a selection.
How long does the course last?
The training program is structured on a continuous basis (we are open 7 days a week), so that the final goal can be achieved in 24 months.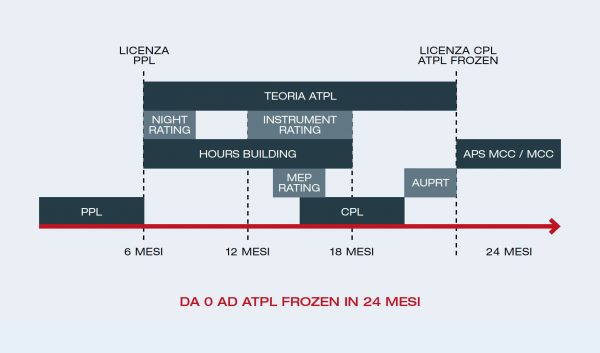 Why choose our school
We have the largest and most modern fleet of aircraft in Italy
• In-house maintenance: thanks to the modernity of the fleet and a widespread organization, we ensure that aircraft are on schedule and available;
• With in-house maintenance capability also authorized by parent companies "Cirrus Aircraft" and "Tecnam," we minimize downtime and ensure maximum safety.
Funding opportunities
We have made agreements with major banking institutions to enable students to finance their professional studies to become Line Pilots.
Flight instructors
We have chosen to work with a team of dedicated full-time instructors, all of whom are professionals in education as well as flying. They have many years of experience that comes with a passion for training.
FUND YOUR PATH
If you need to finance your course of study to become a Line Pilot, you can take advantage of the "merit loan" (thanks to the agreement with Intesa SanPaolo) which provides a financeable amount up to €50.000, loan term up to 10 years And possibility to start paying installments once hired in Airline or alternatively of the BNL Futuriamo personal loan of up to €70.000.
COME AND DISCOVER OUR SCHOOL AT THE NEXT OPEN DAY
Come and discover our Flight Academy at the next open day-a unique opportunity to see your future flight school with family and friends. You will make contact with flight instructors, see the fleet of planes you will fly in, and take a guided tour of the school via the flight simulator.