Try the experience of being
pilot for a day!
Live or gift this exciting experience where participants will experience the thrill of flight and actually fly a plane!
You'll receive a detailed explanation on the various types of planes and ultralight aircraft and all the types of pilot licenses and qualifications;
You'll get an overview of certain theoretical aspects that are addressed in the lessons for aspiring pilots: constructive elements, propulsion, flight controls and foundations of aerodynamics;
You can ask the instructor all the questions you wish and find out everything that separates you from becoming a pilot.
You'll have a 30-minute practical lesson flying your plane with one of our instructors and so you'll be a real pilot for the very first time;
You'll be able to personally experience flying.
The flight is carried out with our Tecnam P92 ultralight.
The event has a cost of €150 all-inclusive.
"A day as a pilot" is an opportunity for all those who want to experience a new adventure and get to know our facility by touching it first hand with practical and theoretical lessons held by our instructors. Find out when our next thrilling "day as a pilot" will take place. Find out when your next emotional day is held!
You can reach our base in different ways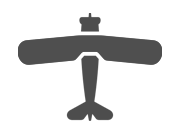 Coordinates: N 44° 28.5' E011° 32.5'
Runway orientation 03/21 on asphalt runway
Ozzano Radio: 128,45

Via Sabbionara, 5 – Ozzano dell'Emilia – Italy
From Bologna, exit the ringroad (tangenziale) at San Lazzaro and continue along the Complanare; after passing Ponte Rizzoli turn
left into via Sabbionara.

From Bologna Marconi Airport
People Mover connection to Bologna Central Station, there take a train to Ozzano, then a cab to Via Sabbionara, 5.
From Bologna Central Station
train to Ozzano and then take a cab to Sabbionara Street, 5.

For those who wish to enjoy the courses and experiences offered by PROFESSIONAL AVIATION for more than one day, it is possible to stay in Catherine's brand new B&B at Hotel Eurogarden.