Making your dream of becoming a pilot in a stimulating, modern and dynamic environment come true
Our dedication is aimed at maintaining an educational environment characterized by the professionalism of our team, by the modernity of our aircraft and by the efficiency of our organization.
Every day we improve in a process of continuous development, always staying one step ahead.
The passion we have in our work repays us through the results of our students and the realization of their dreams and goals.
Professional Aviation is a state-of-the-art training center equipped with the most modern and safe Cirrus and Tecnam airplanes, an advanced simulator, welcoming infrastructures, all teaching aids and especially a young, dynamic and motivated team.
For us, all this means not only a school, but also a community. Professional Aviation: a community of pilots who share a passion in a stimulating environment rich in experiences.
Our team is made up of highly qualified pilots, instructors and technicians who, by virtue of their specific skills, will guide you throughout the whole period of training, offering you a unique preparation in the field of general aviation.
Our courses are structured according to the "scenario-based" method, which unlike the traditional method of "manoeuver-based" training, has been designed to enable novice pilots to learn the flying technique and how to handle all the external factors inevitably connected to flying. The final aim is thus to allow students to become truly autonomous and capable of safely dealing with all operational situations.
Our training programs include a wide range of proposals that differ in form and content but that are equally geared towards enabling students to become full-fledged pilots thoroughly acquainted with the aircraft used.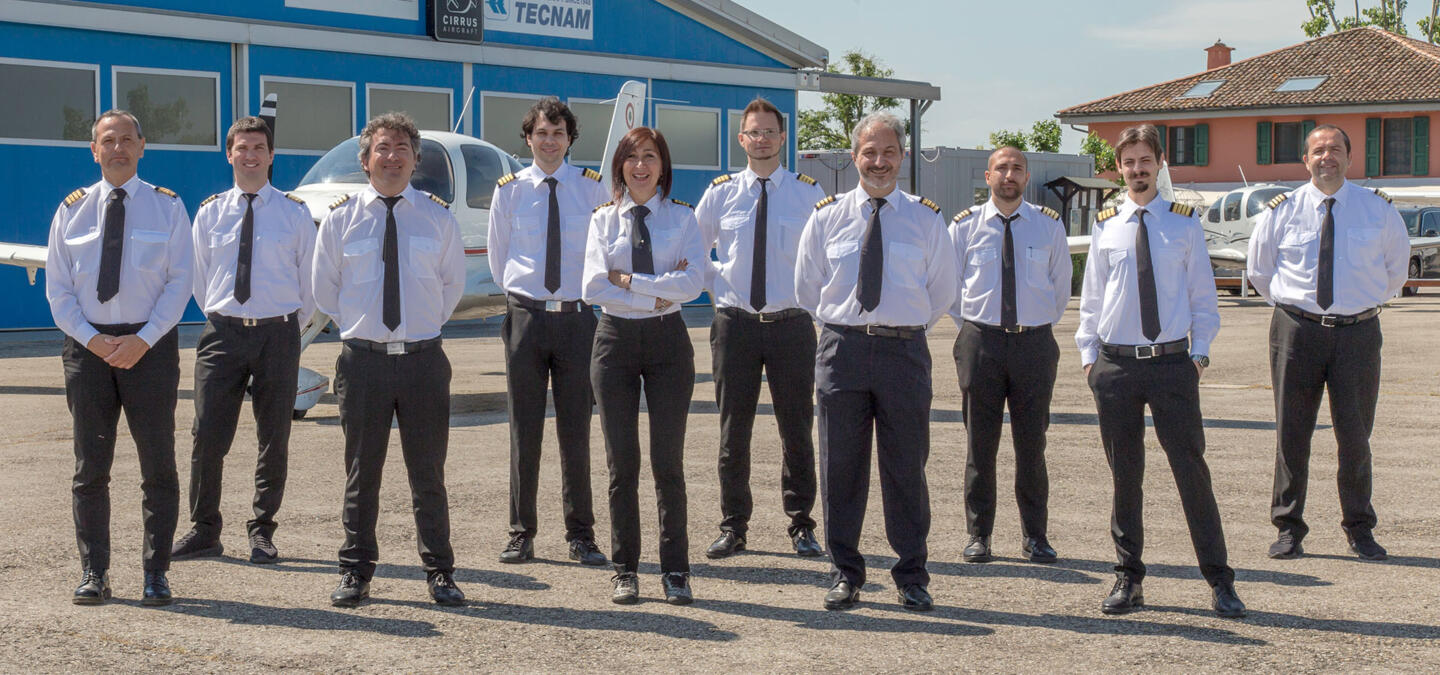 always ready to adapt as your business needs
Until a few years ago, flight schools were typically flying clubs or small semi-family-run businesses. Airplanes had an average of tens of years, the same teaching techniques handed down from generation to generation. Once the license was obtained, you were still very far from the professional standard and there was a large gap of skills and knowledge to fill.
Professional Aviation, thanks to both the military and civilian experience gained by the senior management at an international level, has brought, to Italy also, an international academy, equipped with a modern fleet, with professional instructors, teaching methods and cutting-edge technology.
Train like We Fly and Fly like We Train
Scenario-based training, glass cockpit avionics on 100% of the fleet, a modern simulator, a careful standardization of instructors… these are just a handful of the elements that characterize us and for which we want to be identified.
At Professional Aviation we want to ensure that our students become professional pilots capable of performing to the highest standards in an airline or in any other professional context.
Aeronautical Decision Making, Situational Awareness, CRM (Crew Resource Management) are just some of the aspects we take care of in your training. Hard skills are important but a good pilot needs a smart head prior to a skilful hand. This is what man has learned in a century of aviation, this is what we pass on to our students.
"Learning is a lifestyle, not an event": the importance of recurrent training
Another fundamental aspect of our teaching philosophy is recurrent training. In the realm of professional aviation, even pilots who fly for 5 or 6 hours a day take part in at least two recurrent training sessions per year and the facts show that continuous updating is also fundamental for those who fly planes as a hobby or for private transport. You'll no longer be a "Sunday flyer" but a "Sunday professional". Though Cirrus is the aircraft with the best safety record, we want our pilots to be prepared for any type of difficulty. That's why we believe so much in continuous training with six-monthly recurrent training sessions, aimed at maintaining a good level of performance even in potentially critical situations. What is more, you'll have a unique safety device at your service: the Cirrus Airframe Parachute System (CAPS), a ballistic parachute that can be activated by the pilot in any situation of danger and, once opened, will take you, your passengers and your plane safely to the ground. This valuable device is installed not only in our Cirrus fleet but also across our entire range of ultralight aircraft.
OUR OFFER IS VERY BROAD
AND YOU WILL BE THE ONE TO CHOOSE
THE TRAINING PROGRAM THAT BEST FITS YOUR NEEDS!