Five reasons why pilots have the best job in the world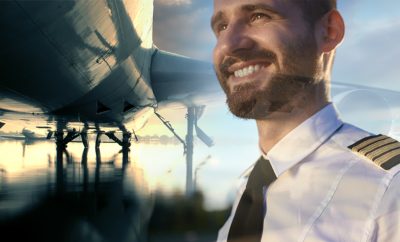 Often the job of our dreams is far from being economically satisfying. The profession of the pilot is a notable exception: according to a research conducted by the aerospace giant Boeing, the world will need another 637,000 qualified pilots by 2036.
As people around the world continue to fall in love with traveling, demand is sky-rocketing, especially in expanding markets, such as Asia and the Pacific Ocean, where growth of 40% is expected over the next 20 years.
And, actually, we're not just talking about airline pilots: in early February 2018, UPS, a leading shipping company, ordered 14 Boeing 747 cargo airplanes in response to the 9% increase in transport demand they recorded in 2017.
A job that is in high demand is certainly tempting in itself, but there are also many other benefits to being a pilot. Let's find them out together!
1 – The pay is more than satisfying
According to the British Airline Pilots' Association (BALPA), the average salary for a pilot is around £ 79,000, with a starting salary of £ 36,000 and a maximum salary of around £ 140,000. Not bad, don't you think? And the situation is not very different in other countries, including Italy.
2 – Your family can also enjoy some benefits
If you are a pilot, you probably fly for free, but many airlines also operate a system where you can name one or more family members to take advantage of discounts and free flights. And sometimes they can even travel first class!
3 – You could be labeled as a hero simply because you do your job
As a pilot, the training you undergo is long and obviously includes emergency situations as well. Sometimes even just performing the right procedures will be enough to label you as a hero.
4 – Your child will envy your uniform
And not only your child… becoming a pilot is not just a child's dream: many adults still envy men and women in uniform, especially pilots!
5 – The view from your office is truly unique
Far from buildings, gray streets and smog: the view that pilots enjoy might be enough to make you seriously consider a career change, don't you think?
So don't waste any more time: if your dream is to become an airline pilot, now you know that your choice is more than reasonable, indeed, it is better than many others
Get ready to become an airline pilot with our Academy: the best team of teachers at your disposal, safe aircraft and a course of studies of high professional level. Contact us now for more information on the courses.